This article was originally published on
WackoJaco
We've all had moments where we put our foot in our mouth or acted before thinking things through. It's just something humans do. But it is funny to witness the worst versions of other people when it isn't us! Check out these stupid, silly mistakes and let someone else be embarrassed for once. You won't be able to stop laughing!
No Pen No Gain
The internet is full of tattoo errors, and they provide laughs for good reason: They are permanent! When you don't think a tat through, it's a real problem you're not going to wash off.  Here, we see that someone wanted a positive and motivational quote on their arm. No pain, no gain is a great way to push yourself in a challenge. Sadly, the final work says something different: No pen, no gain.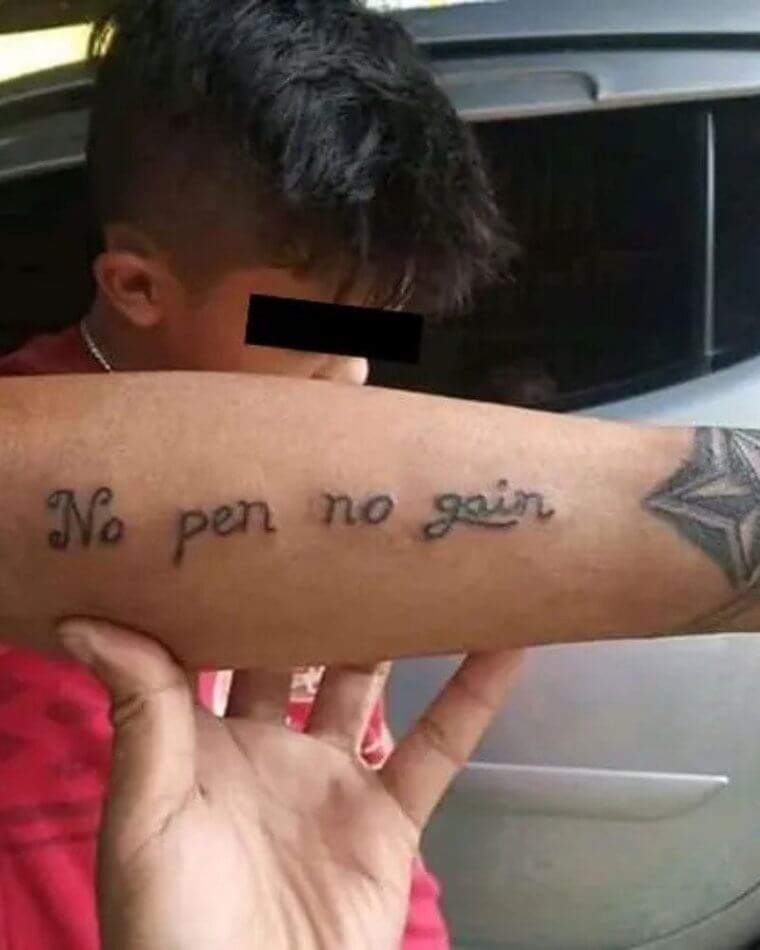 We don't know if the artist is the one with bad spelling, or if the customer requested this exact wording. Now, it's likely to inspire snickering. That was hardly the plan!
Pokemon No
Virtual reality has come a long way in recent years. The game that started it all was Pokemon Go, an interactive experience where you could hunt critters all over your city. Of course, you didn't eat them. You just played with them and made them do battle like the cartoon. When it first came out, there was nothing like it. This user feels they learned something deep from that game. What, exactly?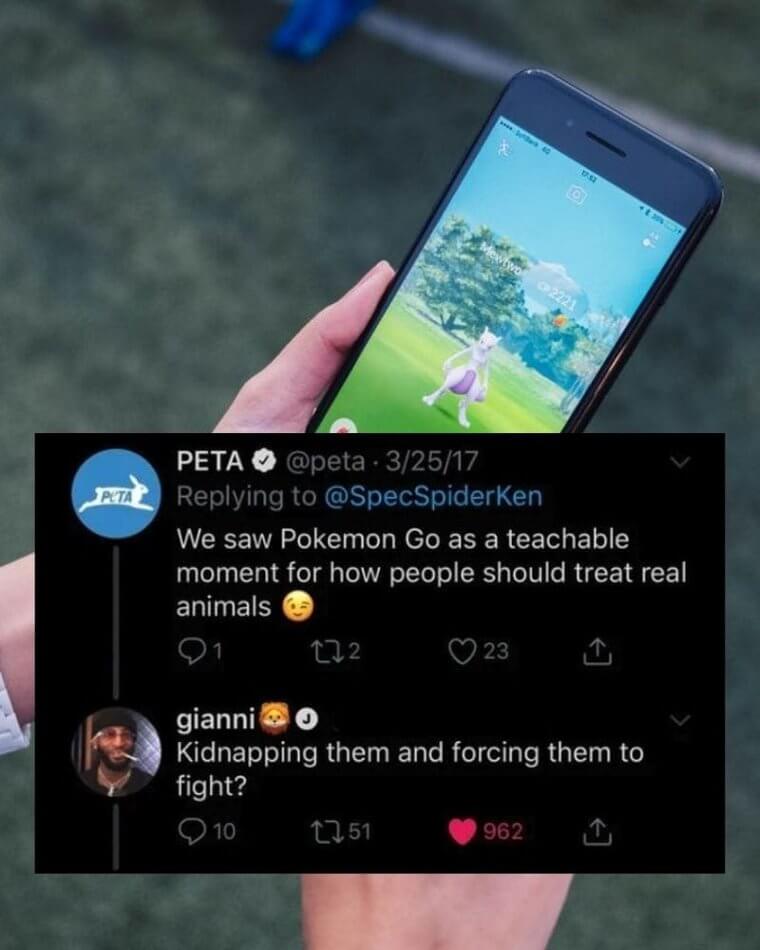 Apparently, they learned should treat real animals in a similar way. Animal rights organization PETA disagreed. Their view: You don't need to make creatures fight against their will, or kidnap them!
Too Many Woodys
Woody Allen is a beloved director, actor, writer, and comedian. For over six decades now, he has been making us think and laugh, and we thank him for that. But what about actor Woody Harrelson? He's pretty famous, too. When a fan came up to him and asked him to autograph a book he wrote, he was flattered. The only problem? It was a book the other Woody wrote. What a mess!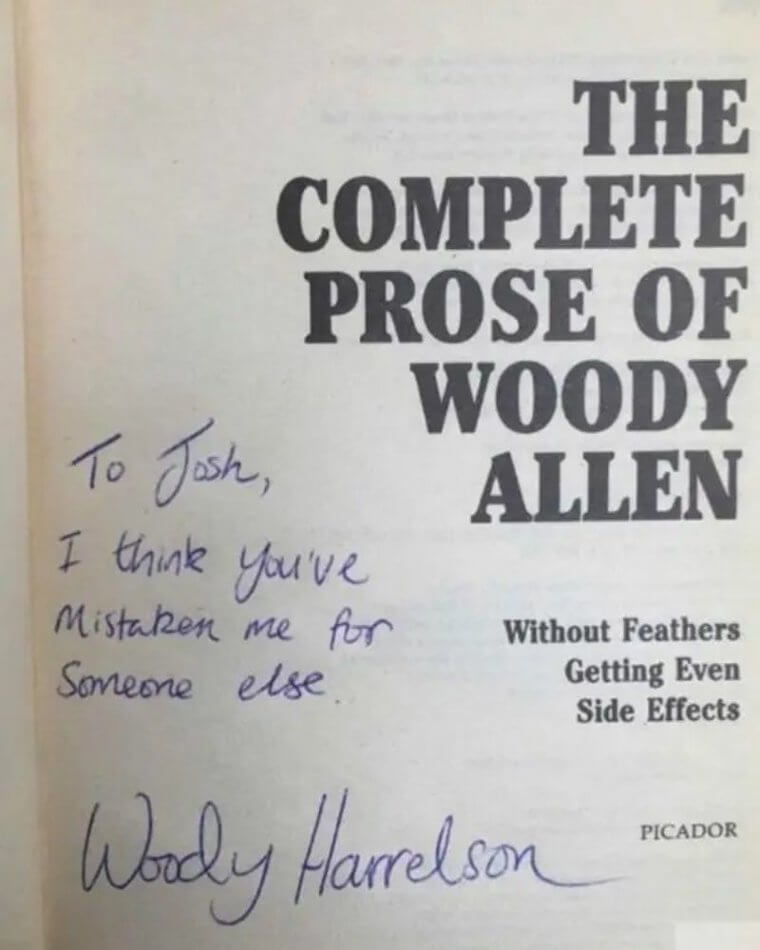 Sure, they share a first name and a profession. But that's where the similarities stop. This was not well thought out. Has this fan never seen his favorite actor, or what?
Windows Are Tricky
Let's be generous: It seems like this person woke up on the wrong side of the bed today. Driving around town with their headlights on, they seem to be scaring themselves. While parked outside of a building, they wonder why there is a car inside of it. But there isn't: It's just a reflection of their own vehicle, right in front of them. Did they think this through at all?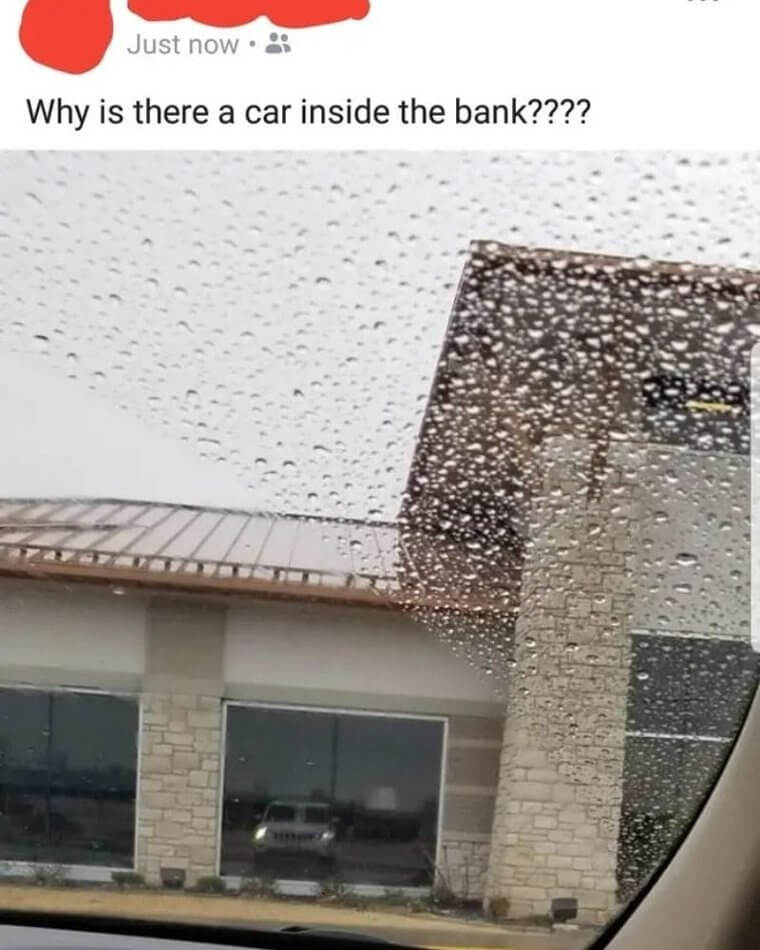 Social media laughed at them and explained that there was no such thing going on. There wasn't a car inside of the bank today, because there never is. Sorry to disappoint!
Bad Backboard
A basketball court has a standard design, anywhere you go. That's the beauty of it: Players can meet up in any city and the setting will be the same. Some homes have a hoop for practice in the driveway. We have to object to the place of the game, here. Instead of a sturdy fiberglass board, the window is going to take the impact. We know what is going to happen, and so do you.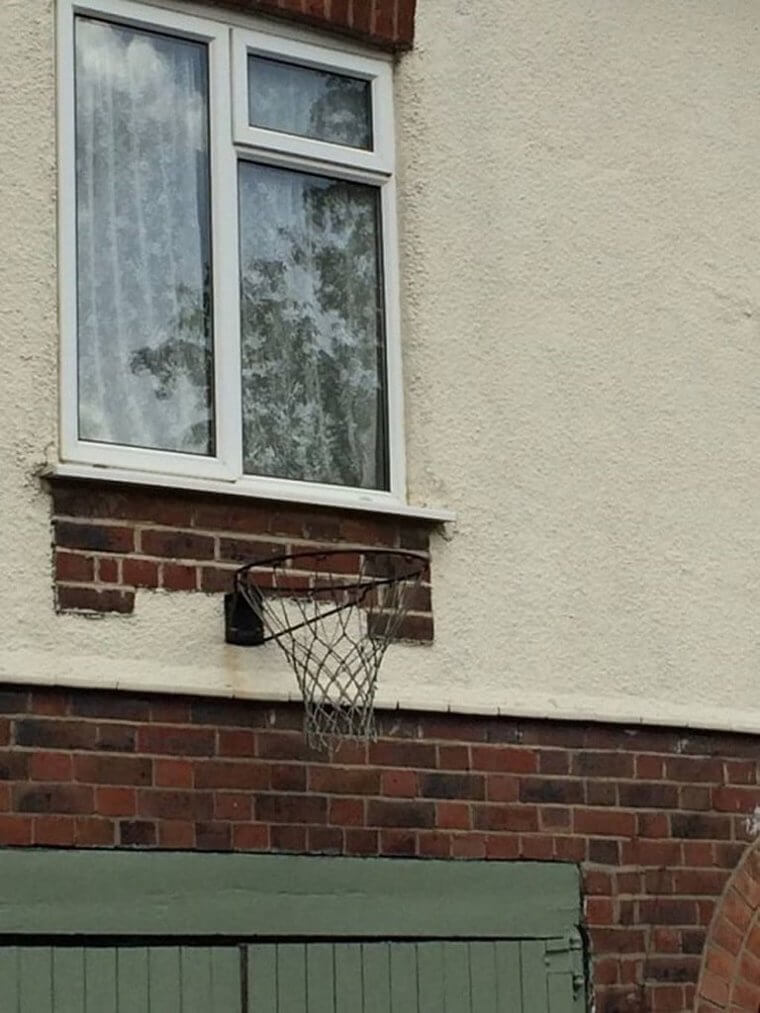 Obviously, this was not well thought through. Unless it's a slam dunk every time, there is going to be shattering soon. Some lessons have to be learned the hard way: We're ready with a broom.
Accidental Giveaway
Gift cards are fun because you get what you want, instead of what the giver thinks you want. But in this case, the code to use online was really, really long. One user expressed frustration with this fact and tried to show exactly what he meant. He posted it on the net. Then, in a flash, there was no money left on his card. What happened? We all know exactly what happened.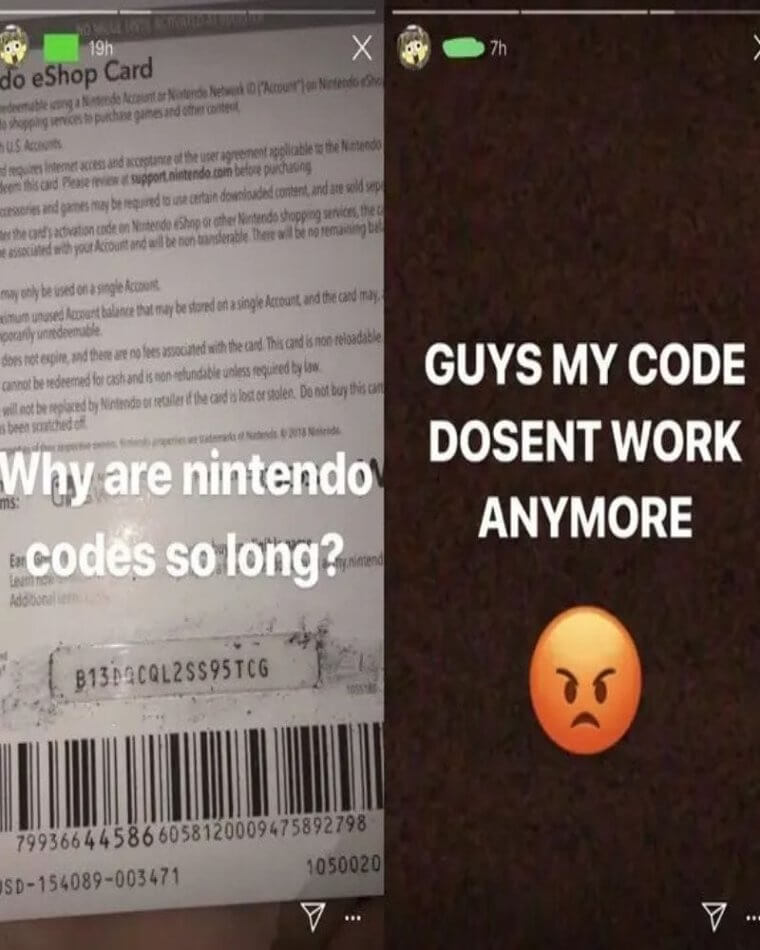 Obviously, someone stole his number and used it for their own gift. But it's his fault, no matter how sorry we feel for him. You need to think these things through, at least a little!
Don't Hate That State
This girl is proud to announce she is moving away for the next phase of life. She is leaving sunny California and heading to San Francisco. Or is she? Online, people quickly pointed out that the city is located in the state. Even next to the Golden Gate Bridge, she will still be in Cali. This post really wasn't thought through! But it's alarming she made it college, more than anything.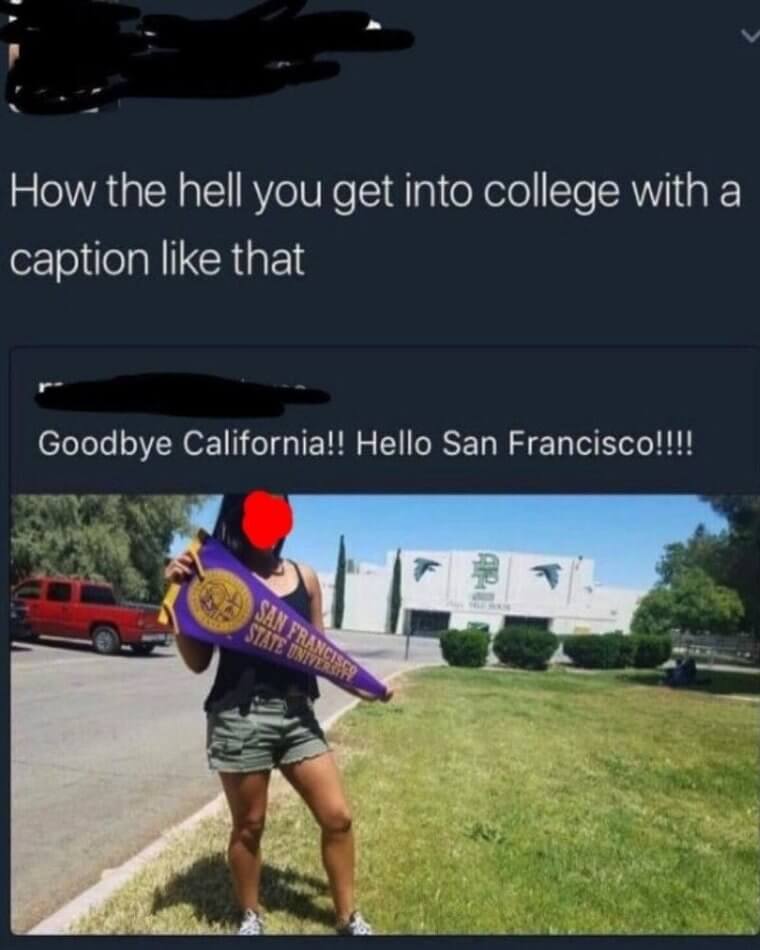 It seems like basic geography is too hard. That should happen long before your first course, and you shouldn't find out like this. Worst of all, this is her home state!
Cake Mistake
To be thoughtful, one shopper was trying to buy birthday candle numbers. It's special when someone makes the extra effort to put our age on the cake. Every 10 years, a zero is required. Here, the store has that crucial digit, which will come in handy for everyone turning 10 to 100, and beyond. But one social media user thinks the store made an error. How can you turn zero years old?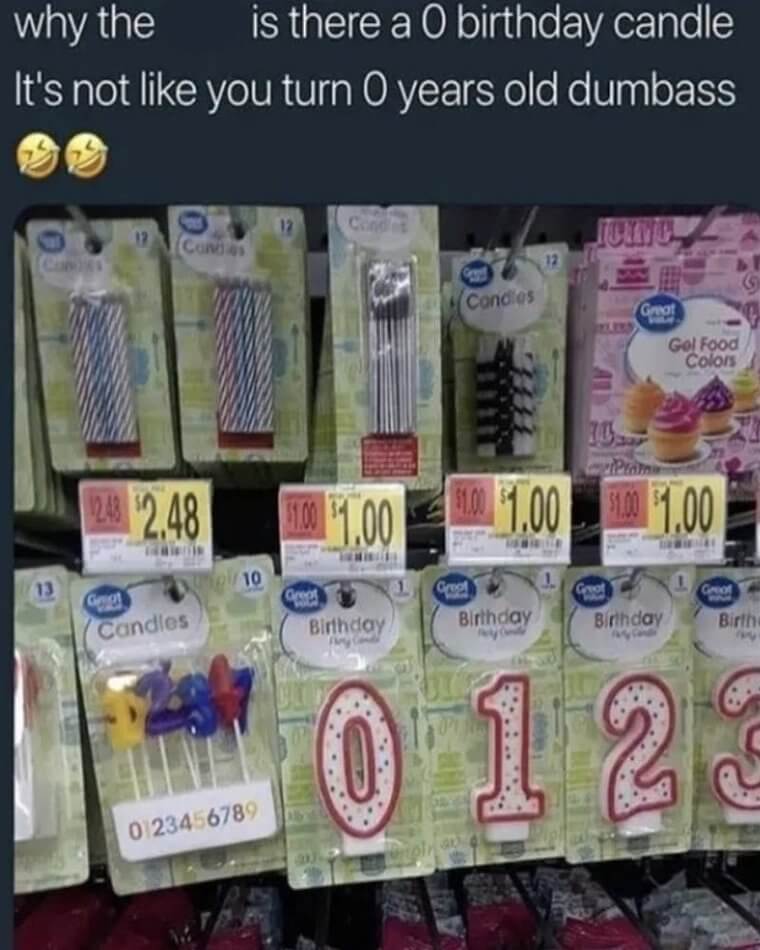 Obviously, they didn't think that comment through. Haven't they ever noticed the numbers 20, 30, 50, or 70? Since this is the internet, they will be notified. Yes, decades exist!
Never Forget Those
When you're in a rush, it's easy to forget one or two items on your way out the door. Some people have even been known to lock themselves out of the house or car. But here, a driver left something behind outside of his vehicle, in plain sight. His keys are dangling in the door, and we worry that someone will take them and drive away. It's only a matter of time!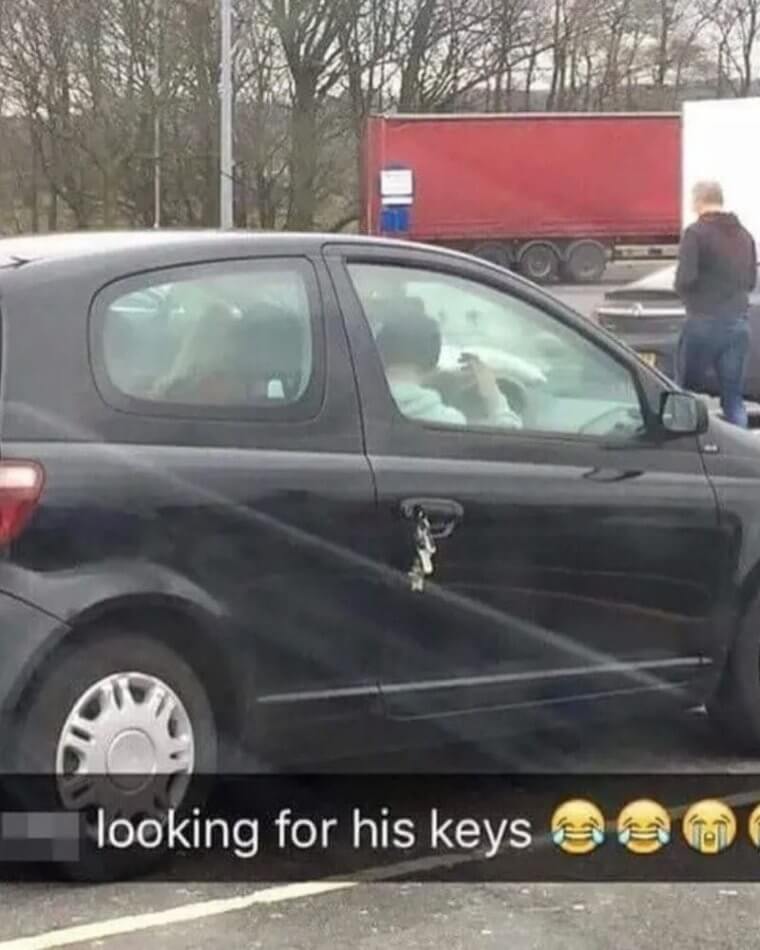 If they just took a moment to think things through, we wouldn't be laughing at this online. But here we are, and we are getting a kick out of it. What an airhead!
Rest in Peas
This kiddie school in Taiwan wanted to teach botany to youngsters. That's a nice idea, we say. The garden they all planted together is a great way to observe the process of plant life, from start to finish. It requires a little patience to see results. In that time, it's easy to forget whose spot is whose, so the teacher put a picture of each child next to their seed.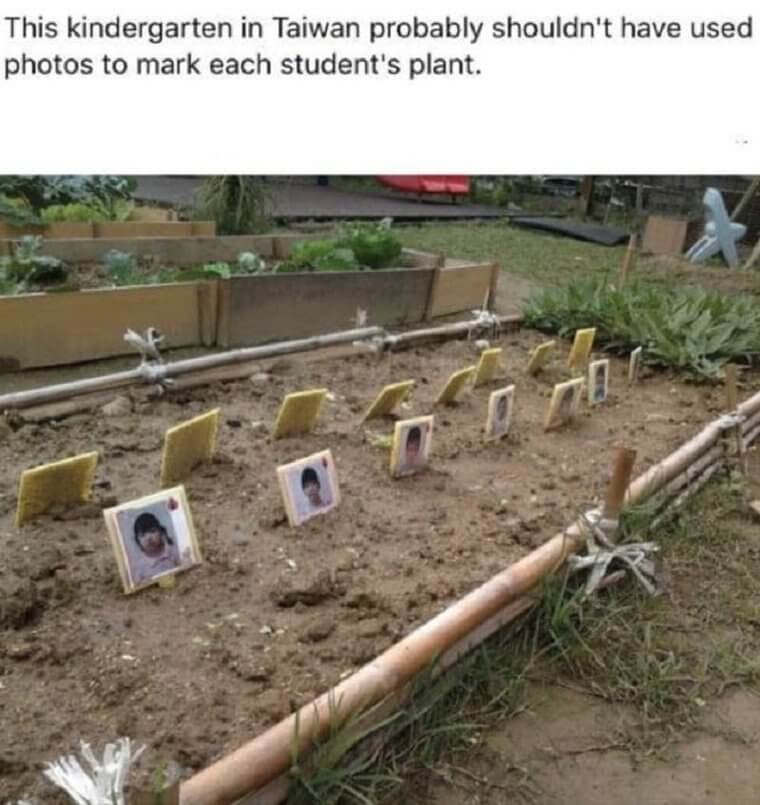 Quite unfortunately, this made it look like a mass graveyard of primary schoolers. How sad that would be, right? It isn't, but this wasn't thought out well. We recommend nametags!
Spellcheck Is Free
It was a phenomenon on two continents, but there is little agreement about it: The Office premiered in the UK but its second cast in America got just as many laughs. Some think the first was wittier, and others think the second was funnier. Some viewers didn't love either version. There is another critique out there, though. This social media user seems to rank it in terms of food, which puzzles us.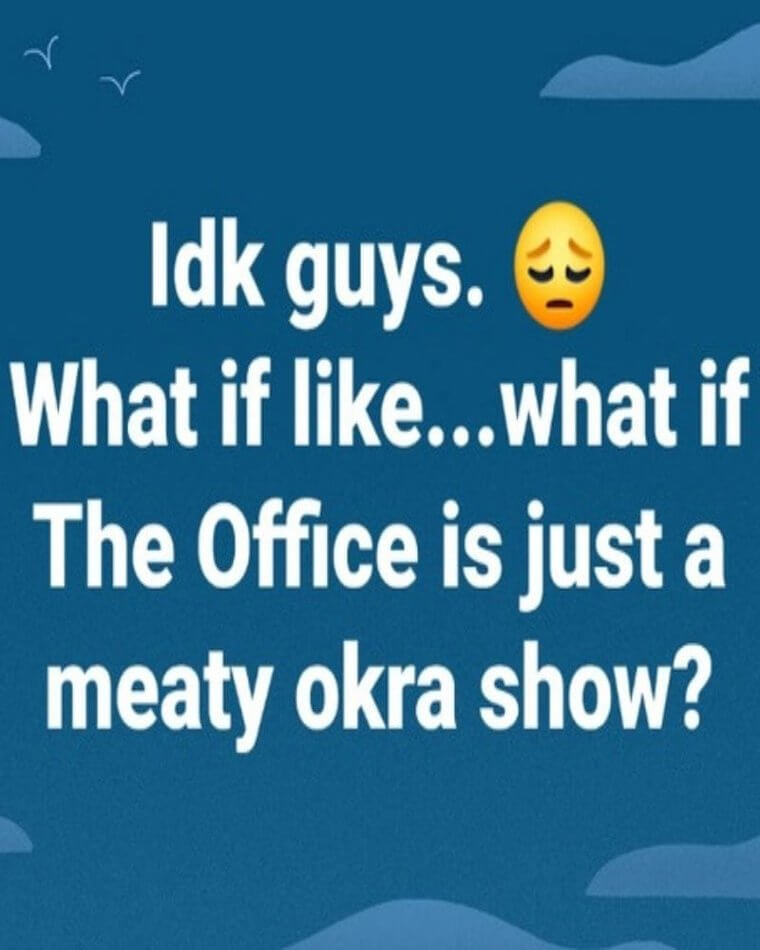 What is meaty about the sitcom? We didn't see much okra there, either. If they were trying o spell 'mediocre', as we suspect it wasn't well thought out. Try a spell checker, crazy!
Never Touch That Coke
If you ever find yourself wandering on the railroad tracks, do not pick up any empty bottle full of liquid. We know why it's there, and it's probably not being left as a treat for you. In fact, it's most likely full of urine, more than anything else. This person didn't think about that and assumed it was a soft drink that had lightened in the sun. It is not!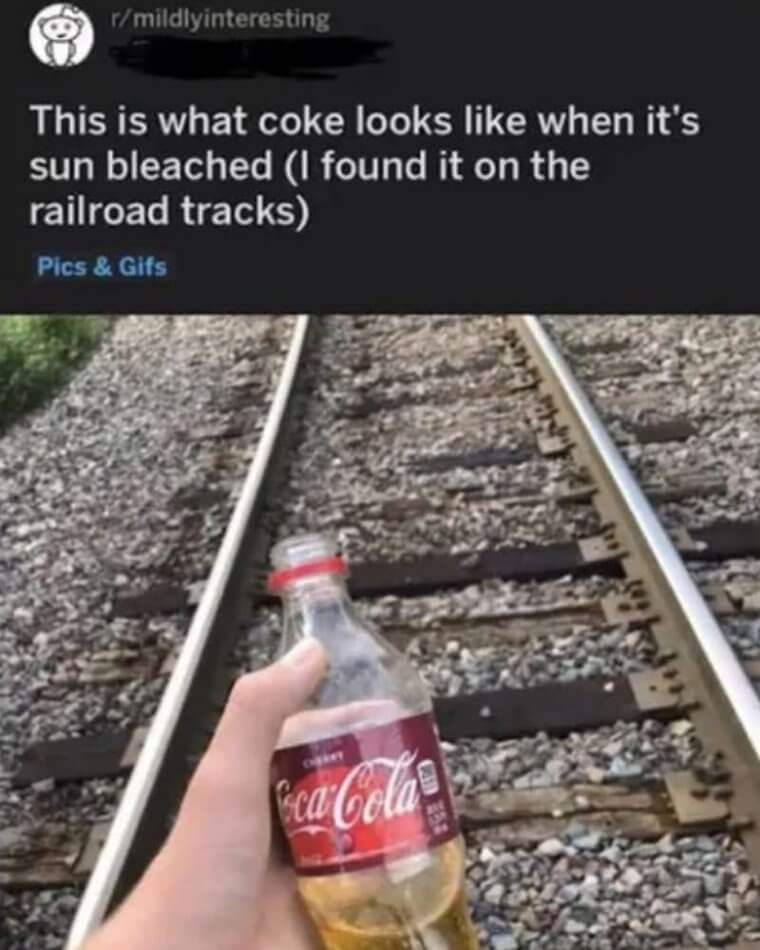 It's gross, even looking at it now. We hope this innocent soul didn't try any of it. That would be a big mistake. We would never get over the trauma!
She's No Angle
Beware of the tattoo written in cursive. There's so much room for disaster. You need to double and triple-check that your artist knows what they are doing, and how to spell your idea. If you're not careful, you could end up saying your mom is your 'angle' instead of your 'angel'. There's a big difference between geometry and theology. This person only learned of the error when the internet laughed!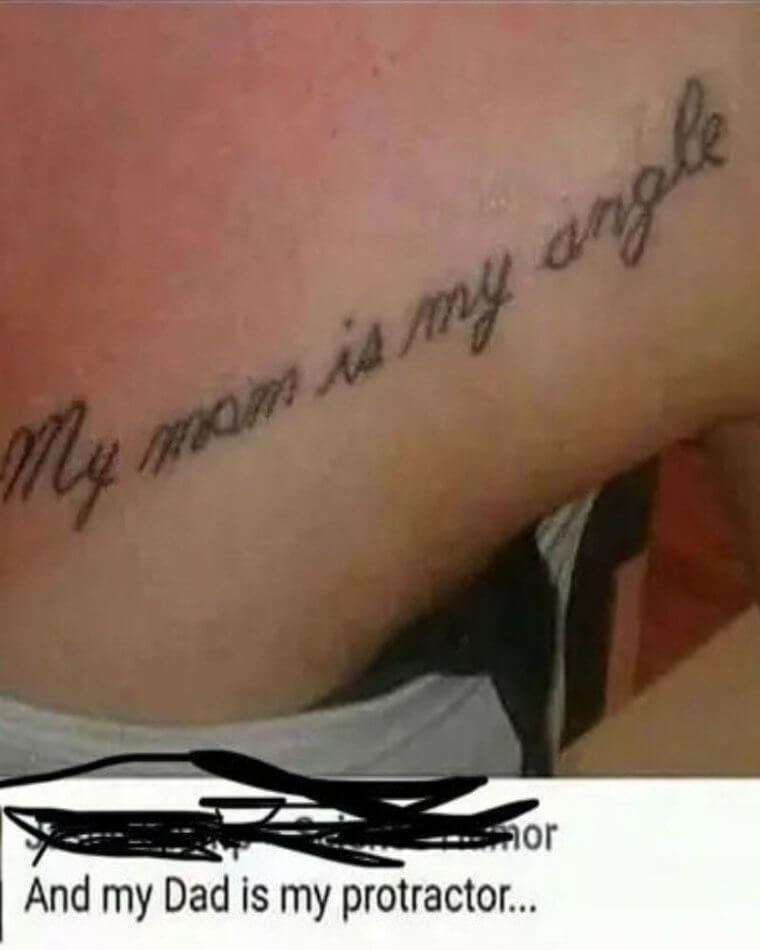 We don't know if mom noticed, or what she would think about the claim. Is that all she has been, all these years?
Crime Pays
Conmen always have to stay one step ahead of the law with their scams. The FBI is always on their tail, and they can never rely on one method for too long. Here, a trickster decided to entice citizens to willingly give up their info. How? He claimed that Twitter automatically censored credit card numbers before they can publically appear on a feed. That turned out to be bogus. Surprise, surprise!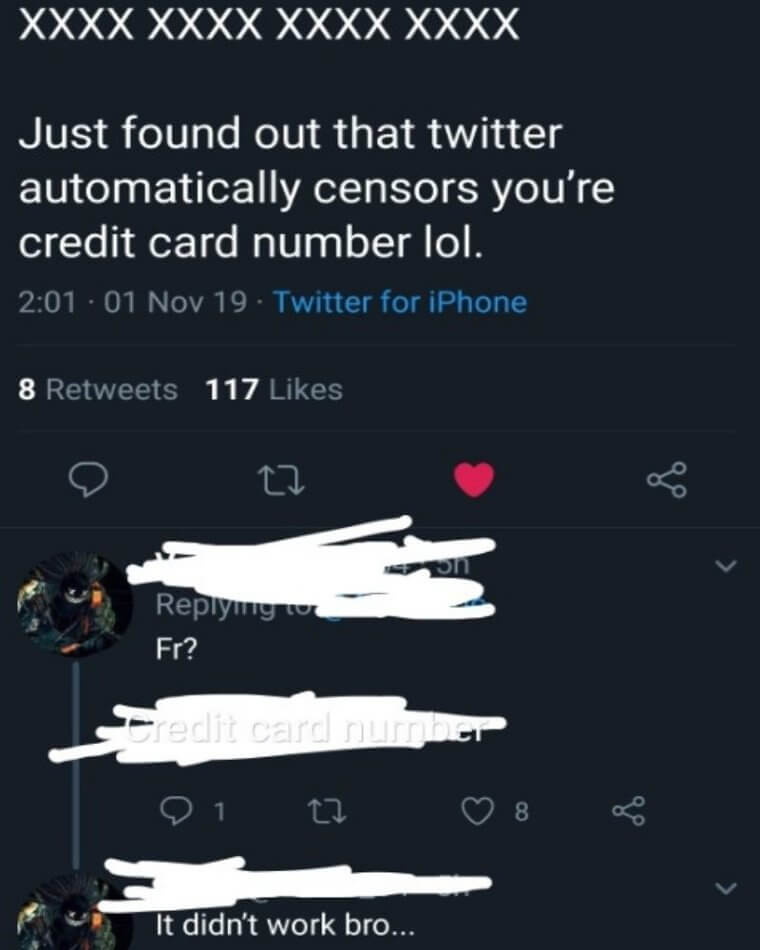 We're not really surprised, actually. When silly folks tried it out with their real card numbers, the info got swooped up in a flash. That wasn't very well thought out, was it?
Mistletoe Has a New Meaning
The Christmas tree is the center of the living room during the holiday season. It provides cheer and magic for the whole family if decorated well. It is a pleasure when your ornaments twinkle and your tinsel is wrapped right. Someone certainly tried to do that here. But looking closely at the baby Jesus here, we see a problem right away. Doesn't this look a lot like a human toe?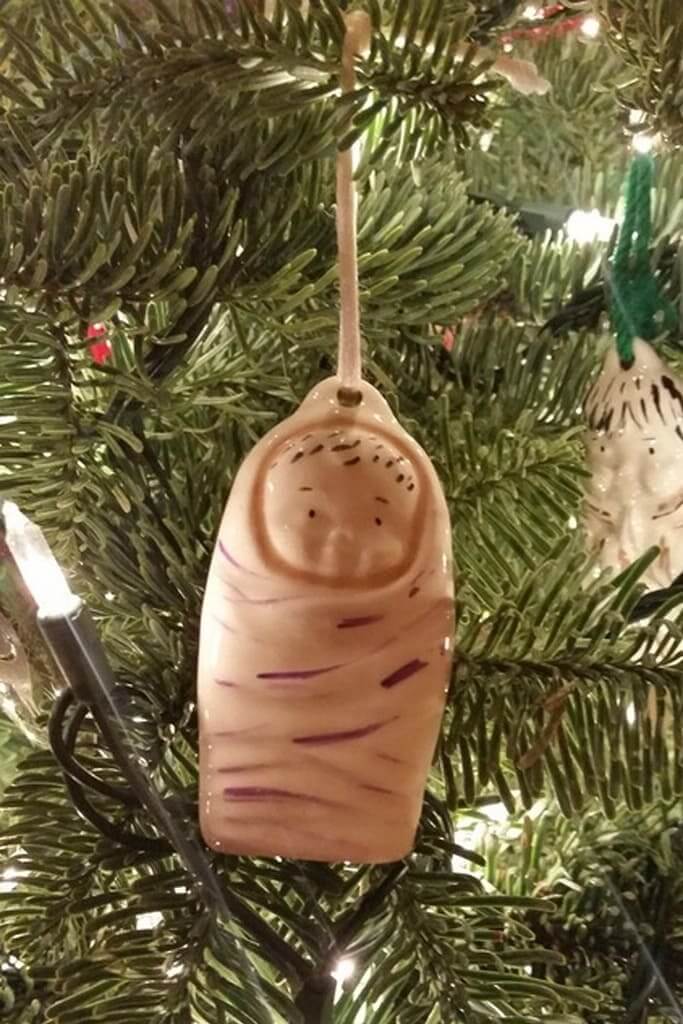 There are many layers here to criticize. First, we have the designer. Then, we have the factory. And finally, we have the buyer. How did this even get through, without anyone thinking it through?
Tomatoes All Day Long
When we hear a complicated new word, our brains may process it in a number of ways. This person heard the word 'ultimatum' and thought it had something to do with tomatoes. Maybe it was all about them, and he wanted to know why. As we can see from the real spelling, it has nothing to do with those delicious fruits. Or are they veggies? That debate rages on.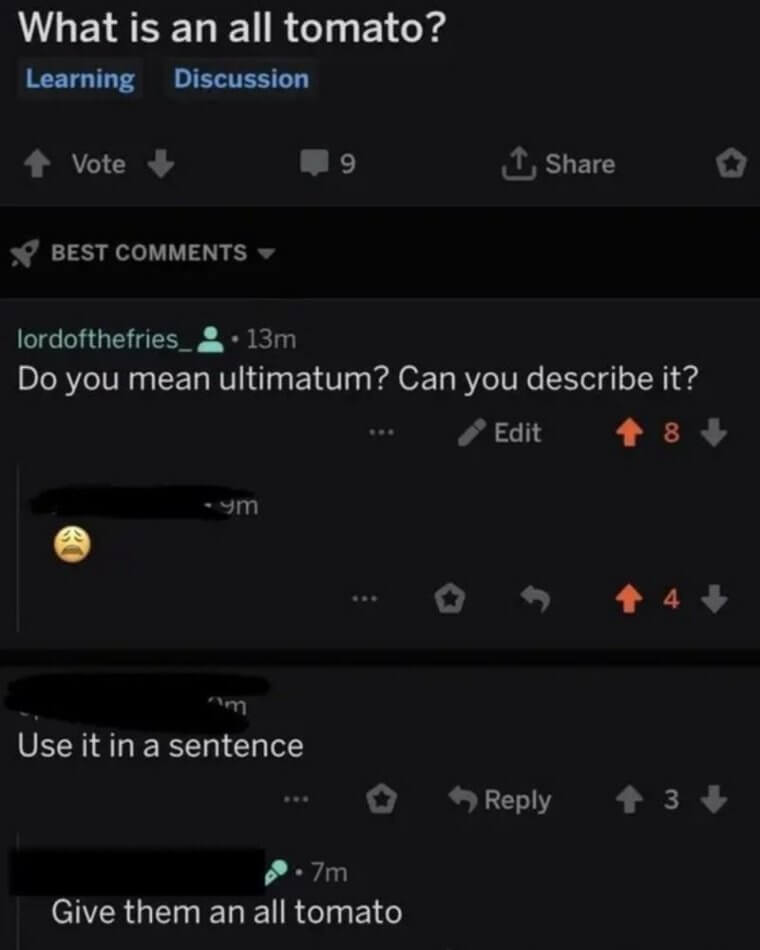 It's not well thought out, but that's okay. We wouldn't mind if someone threatened us with a tomato. That's often better than an ultimatum. The latter makes us make difficult choices!
Microwave Misadventure
The internet is a place for silly lies, all in good fun. Here, we see that someone tried to make a joke that they shrunk a copper penny in the microwave. They showed a convincing before and after, apparently: The second penny was just so cute that someone was inspired to try it out. That was a big mistake. Doesn't everyone know you can never put metal in the microwave?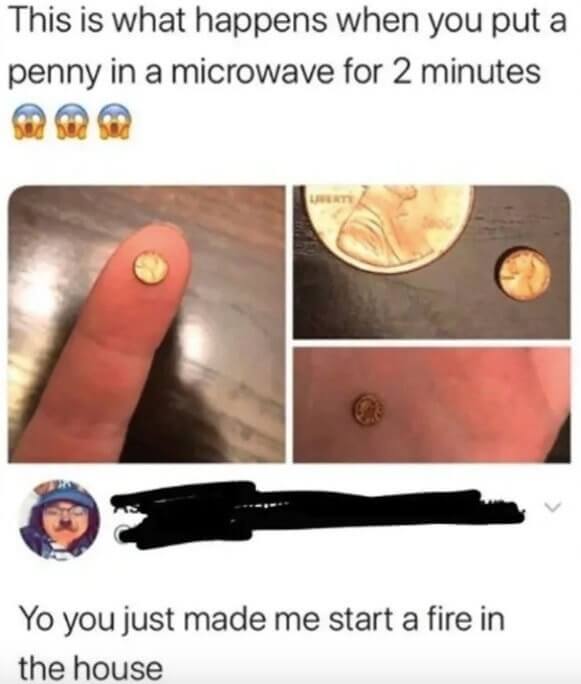 When you see a claim online, it might be too good to be true. It also might just be for laughs and a giant fire hazard. Think things through, please!
A Fence for Fools
It's cold, but it's true: Good fences make good neighbors. Here, we see that one homeowner wanted to put that idea into practice. He constructed this fence and even went so far as to add razor wire. That will keep out the pests, he thought. But we can see he was wrong, and so can much of the internet. Looks like he forgot something key! Do you see the problem?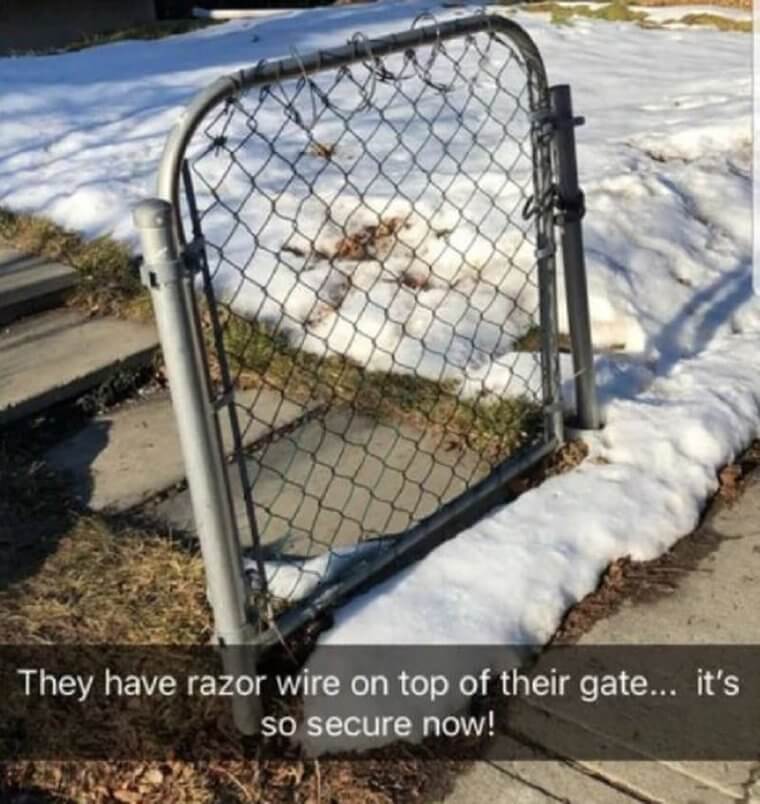 Without more fencing, this is merely a gate. It's easy to walk around it and invade his property. And it's not only a silly sight: It might be seen as a dare!
This Just Stinks
This couple got engaged and sent friends a quirky proposal announcement. As a play on words, the couple wanted to say he popped the question on a note and put it in a bag of popped popcorn. The popped double meaning was supposed to be the funny part. But online, one well-wisher realized they didn't think things through. He 'pooped' the question is the phrase that got printed. What does that even mean?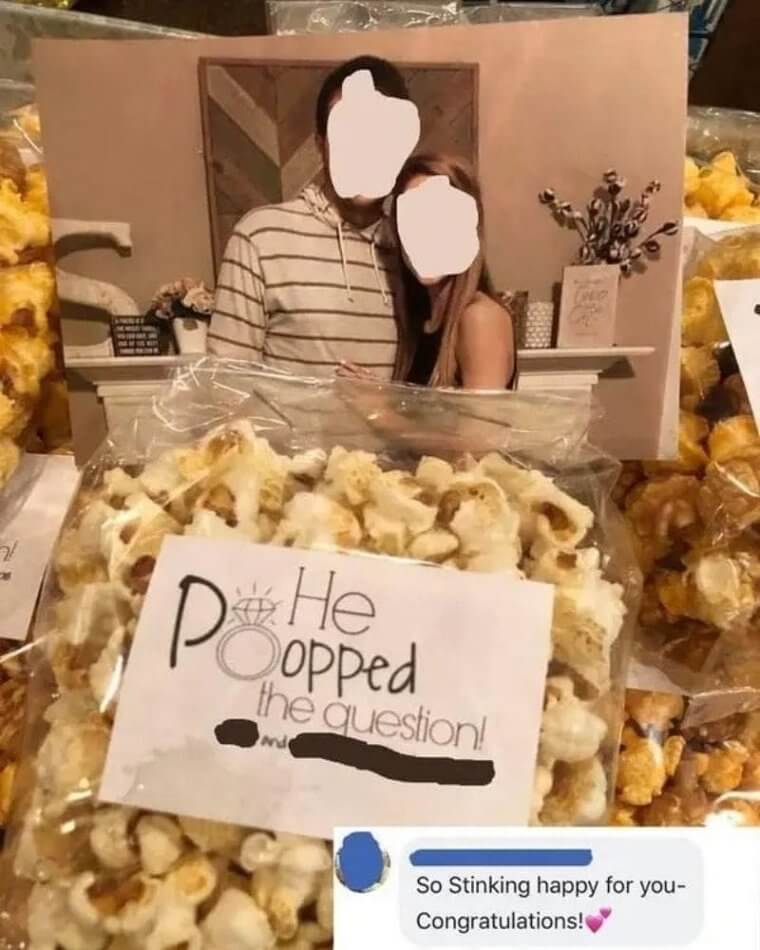 We're guessing this is yet another terrible case of autocorrect. We certainly hope so! A troll made light of the situation and claimed to be 'stinking' happy. We are too!
Call Me Baby
There's no doubt about it: The technology we use today would seem like sci-fi to the people of yesteryear. Phones alone have gone through so much evolution just in the last 20 years. From the flip phone to the slider, to the first touch screen, that's a lot of models to master. Here, Ellen tries to embarrass a young lady by making her use an old-fashioned rotary phone. Did she succeed?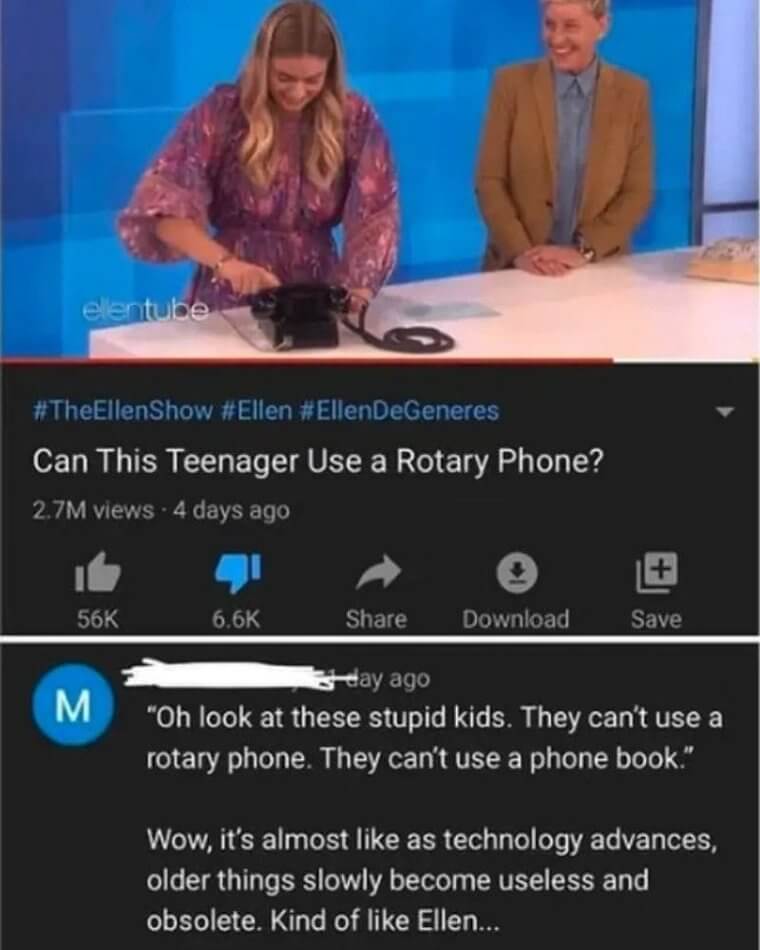 We don't know, but the internet roasted Ellen herself. Why would she need to know something that has no use at all? Everyone agreed Ellen was obsolete, in the end.
A Quick Fix
Here, a new homeowner was excited to buy numbers to advertise their address. They place a 5 and a 4 on the counter, preparing to attach them to the door. But to their dismay, they bought 54 instead of 45. Had they really not thought things through? The internet laughed and explained the error wasn't so bad after all. There was actually a pretty obvious fix. What was the solution, besides selling them?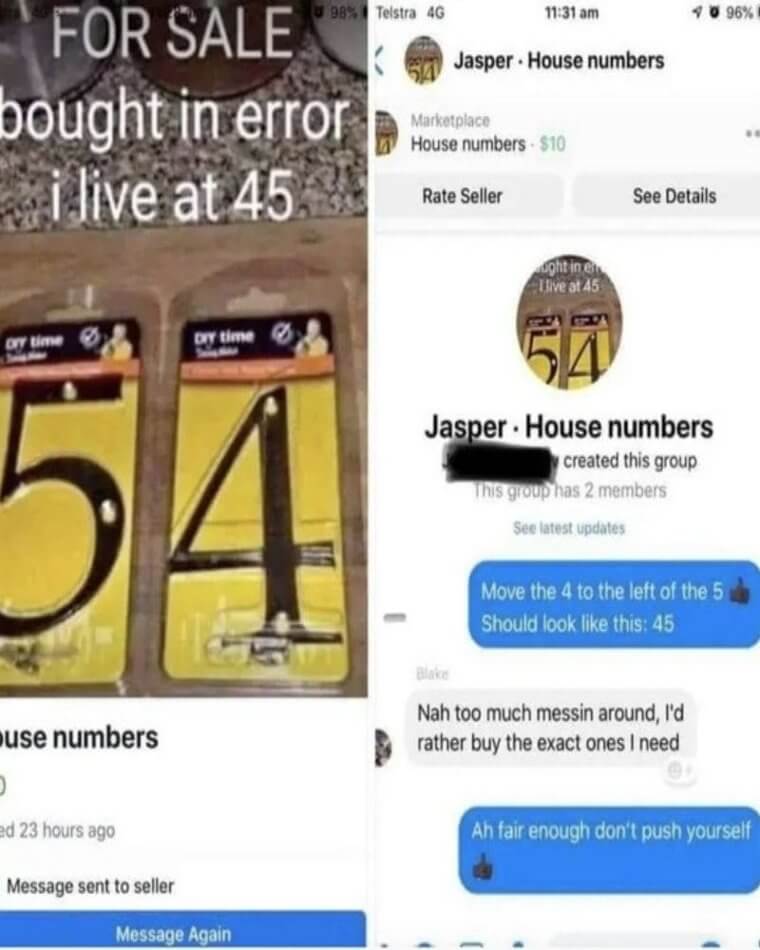 Well, all you need to do in this situation is a little sliding. Just slide the 4 to the other side, and you have the number you need. 45, here we come!
The Mustard Scam
The truth is, a lot of us slept through math class. It just wasn't our passion! With the invention of the calculator, some people question why we even have to learn the basics anymore. This social media post tells us exactly why, in a photo. A shopper picks up mustard, sees that there is a promise for 50% more product, and gets outraged. Was this justified, by the math?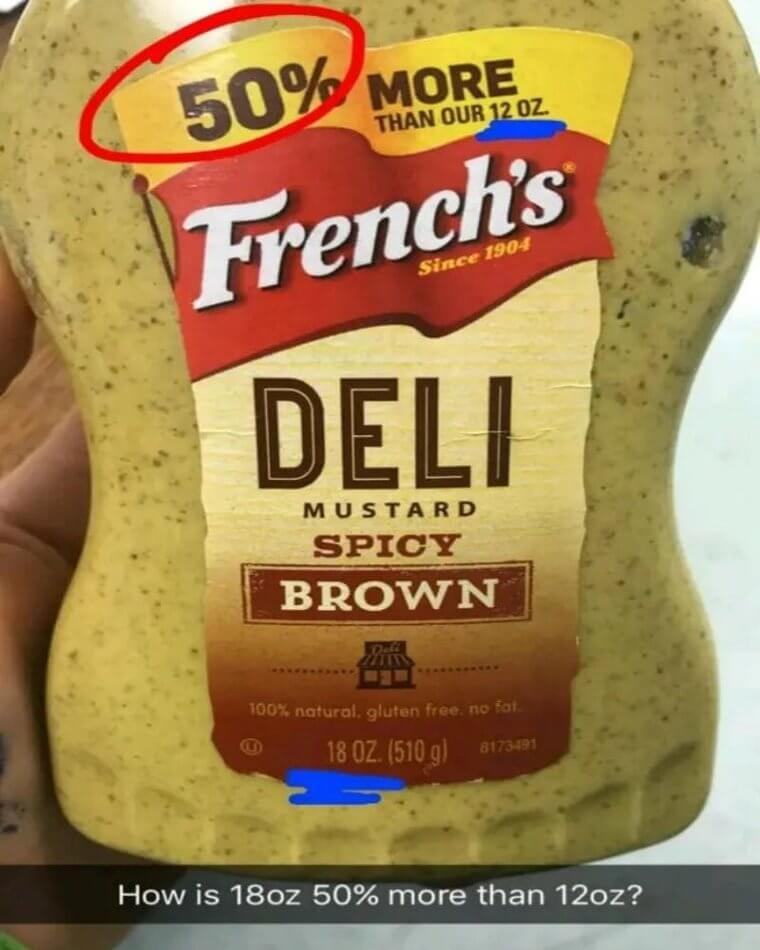 The truth is, the claim is correct. But that requires a lesson or two on percentages. Clearly, someone missed that explanation a long time ago. It's not too late to learn, but it is too late to avoid the laughs of the net. Ha!
Sounds Sloppy
Most places accept credit cards, and many allow a feature to pay them by card and hand cash back. This place of business does not want all its bills to go, and they refuse to perform the courtesy. That's within their rights, we admit. But their sign is distressing. They apologize for the 'incontinence'. That means an inability to poop in the toilet, letting it go right here. How crude!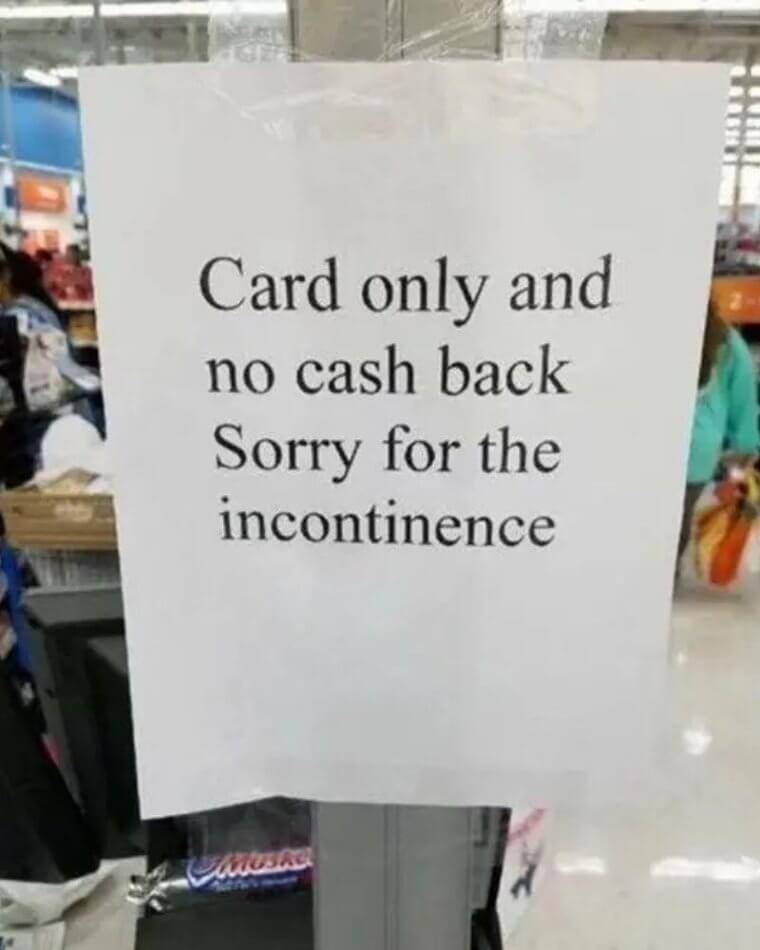 We have a feeling that's not really what the manager meant to say. But the deed is done, and thousands are chuckling online. We bet you are, too!
The School Rule
When you park in spots that are intended for teachers, they get mad. We understand why: It's their workplace, and they have to get into the classroom. They can't drive around all morning looking for parking while you hog the lot. This sign communicates the issue. But there is an obvious spelling error, and we are surprised to see it from an educator. Who is teaching our kids, these days?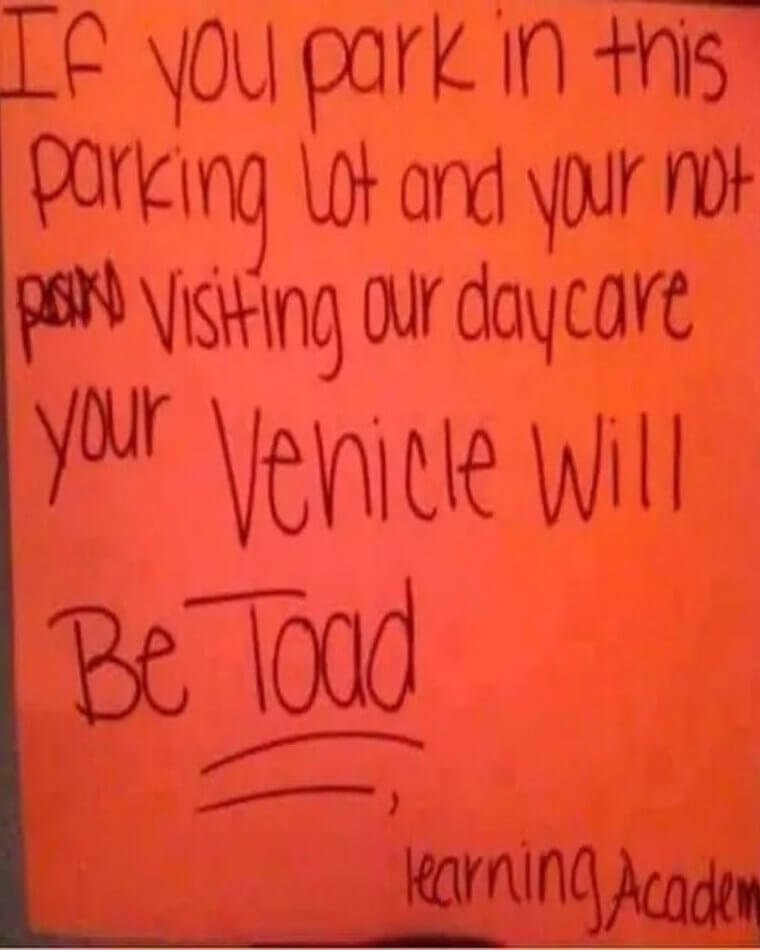 Towed is not the same as 'toad'. We think they want us to know that our car will be pulled away by a truck. We hope they don't mean it will be covered in amphibians. That would be too slimy!
A VIP Toilet
No matter our differences, we all have one thing in common: Everybody poops and pees. Sadly, this facility is just open to the disabled, elderly, pregnant, and child patrons. Are these the only people who come to the store? This bathroom sign doesn't seem very well thought through, in that regard. Or, for some reason, the management wishes to discriminate against men, single women, and teens. Why the hate, store?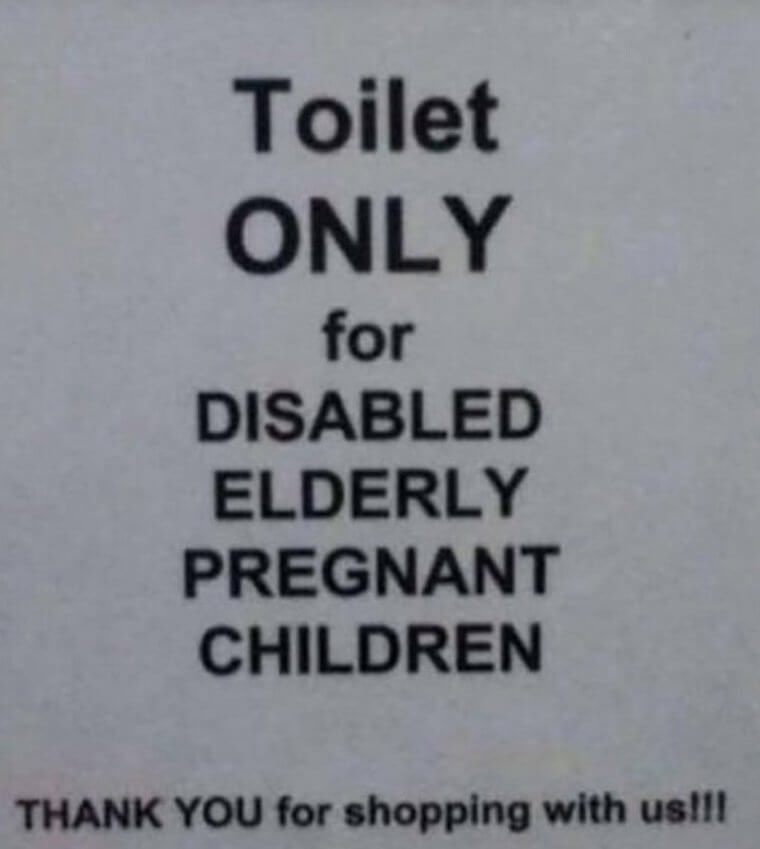 The internet went wild. This seems like the most exclusive toilet on the planet, for no good reason. We recommend inclusive toilets. Without a doubt, most of us will need one!
Fire This Designer
We know that tricksters falsely pull the fire alarm. It's amusing for them to see all the people scramble from a building, in fear of flames. But as we know, that's not humor sat at all. It could result in someone getting trampled in the chaos, and there are good reasons this prank is actually a crime. In the old days, someone tried to solve the problem with this box. How does it work?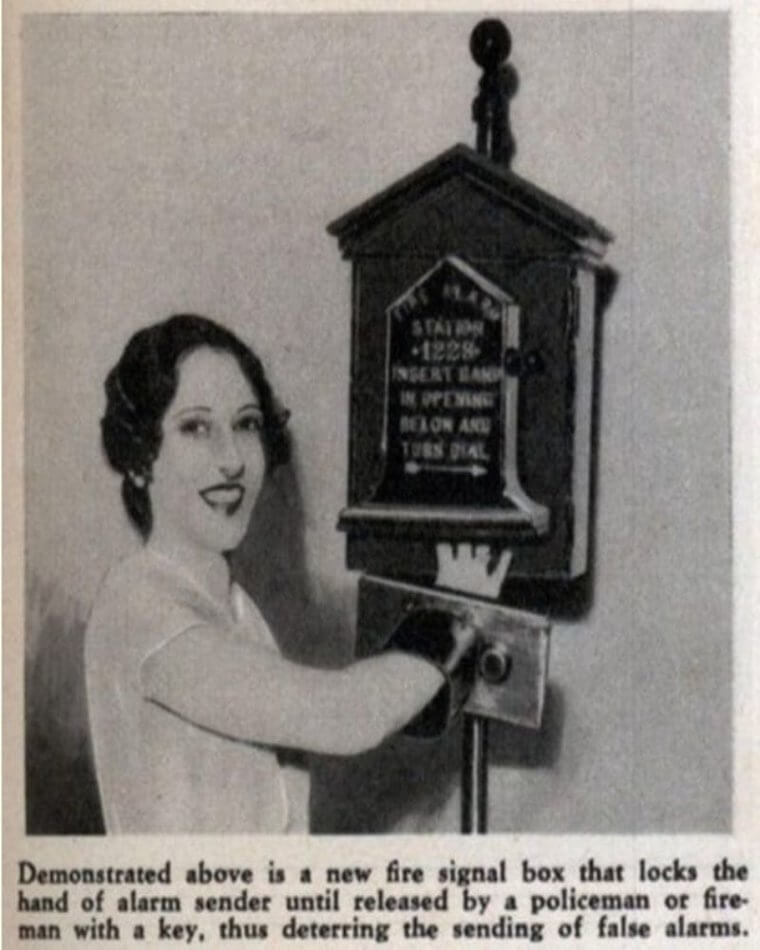 The box would lock around your arm if you pulled it. This would catch false pullers, sure. But if there was a real fire, this person would be trapped! Not very well thought through, we say.
The Yummiest Numbers
We all learn to cook more and more as time goes on. But at the beginning, simple dishes are best in the kitchen. For many college students, ramen noodle cups are the way to go. Just add hot water and mix in that tiny packet, and you've got yourself a meal. The only skills required are turning on the kettle and stirring. Oh, and one more thing. Remembering the name!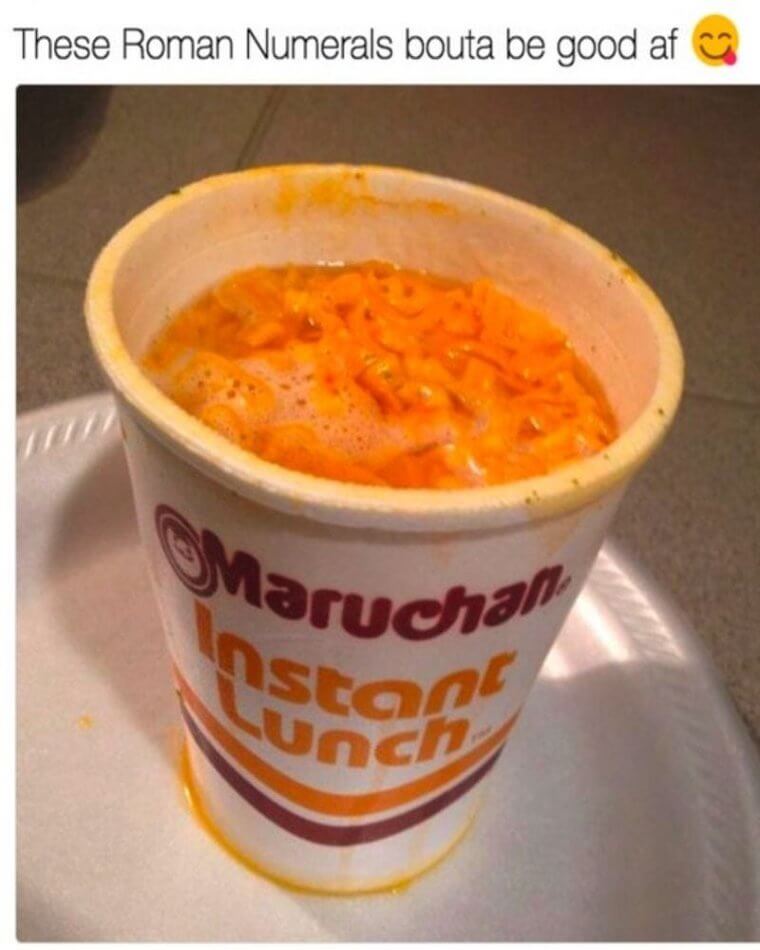 Here, one diner called the food roman numerals instead of ramen noodles. Maybe it was autocorrected, or maybe it was an unchecked error. If the latter, the internet is going to set that straight.
Missing the Plot
Frankenstein is a classic tale about a monster made in a lab. The walking science experiment couldn't be a real part of the world, because people misunderstood him. It's a sad idea, and real people can sometimes relate. But a writer at a newspaper seemed to have missed the point of the book. He makes fun of students who say that the character was a victim. But that was the whole point!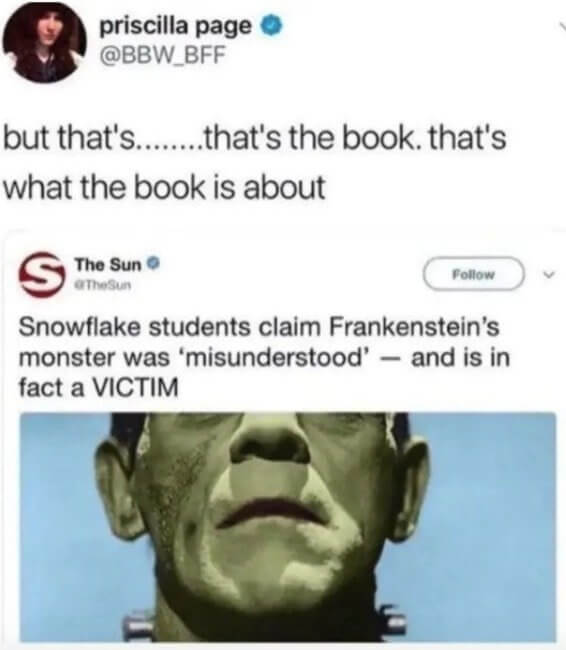 It's time for a reread, sir. If you cover the topic, most readers expect basic knowledge. This is less than basic, in a rush for clicks and likes. It wasn't thought through at all!
This Gull Is on Fire
The animal kingdom is full of surprises. There are so many birds, fish, and reptiles that we can't claim to know them all. A few are more well known, like the pink flamingo. But one Instagram user seems to be confused about the name of this breed. He calls them 'flaming gulls' and says he expected them to be brighter. How did he conclude these big birds were gulls, and why does he think they are flaming?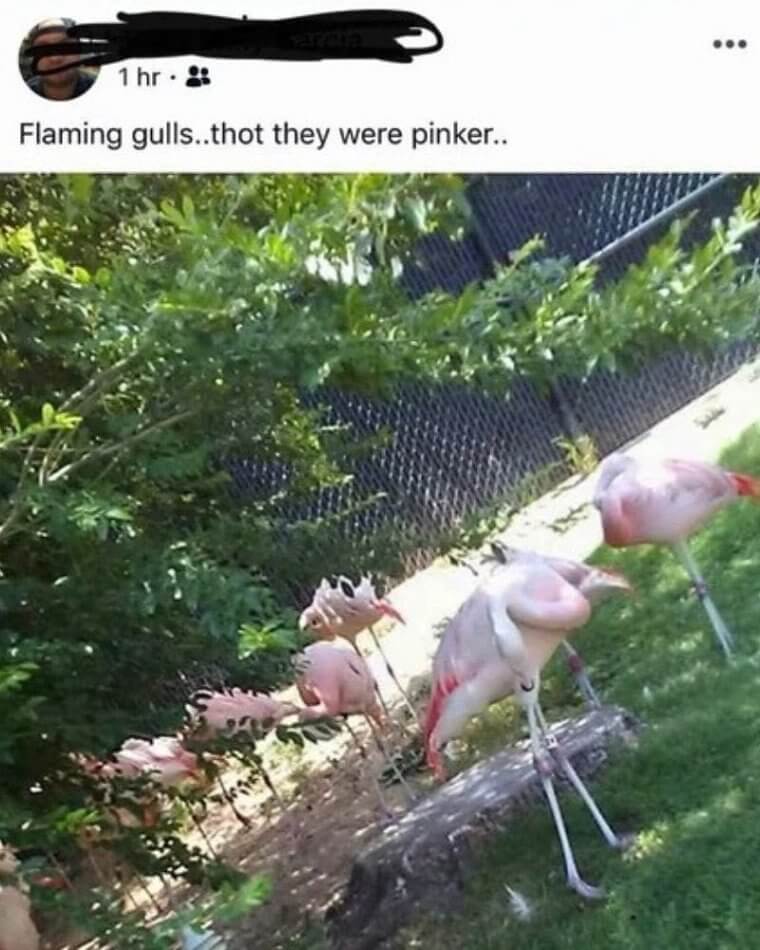 It seems the critic didn't think this through. And he also didn't read this through. Flamingo is a well-known word, really. It's time to take a hard look at it!
We're All Terrified
Ads are everywhere you look, from billboards to building walls. Buses are also a place where companies like to place their products and get your attention. They're an interesting choice because they actually move around all day. You don't have to walk to them: They will drive to you! Here, the design for a baby brand turned out to be scarier than expected. Look at it, and admit your fear!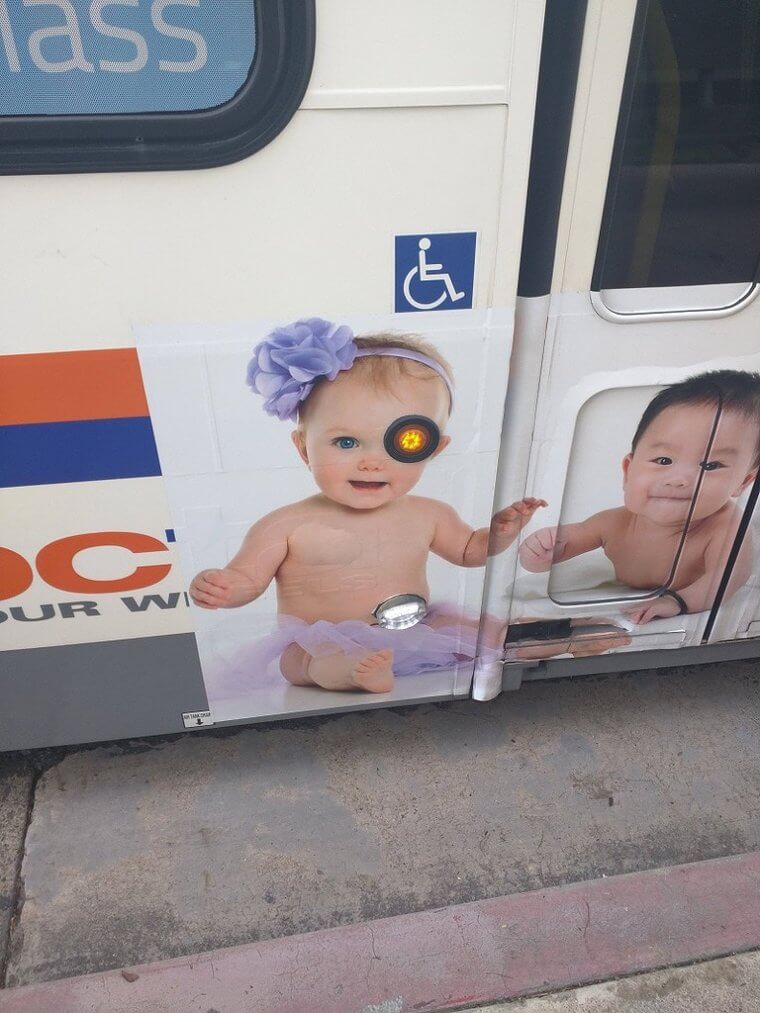 The light on the side of the bus lines up exactly with the eye of the infant model. She looks like a cyborg baby from the future, here to blast us all. Watch out, folks!
That's No Vanilla Fish
Not cooking meat all the way through could be even worse than not thinking things through. Vegetarians don't have to worry about this kind of thing. But if you eat chicken, fish, pork, or beef, and especially seafood, it's something to think about. This social media user was trying her best to ask friends if it was dangerous to eat this bite. Her question was a little unclear, though, if we are honest.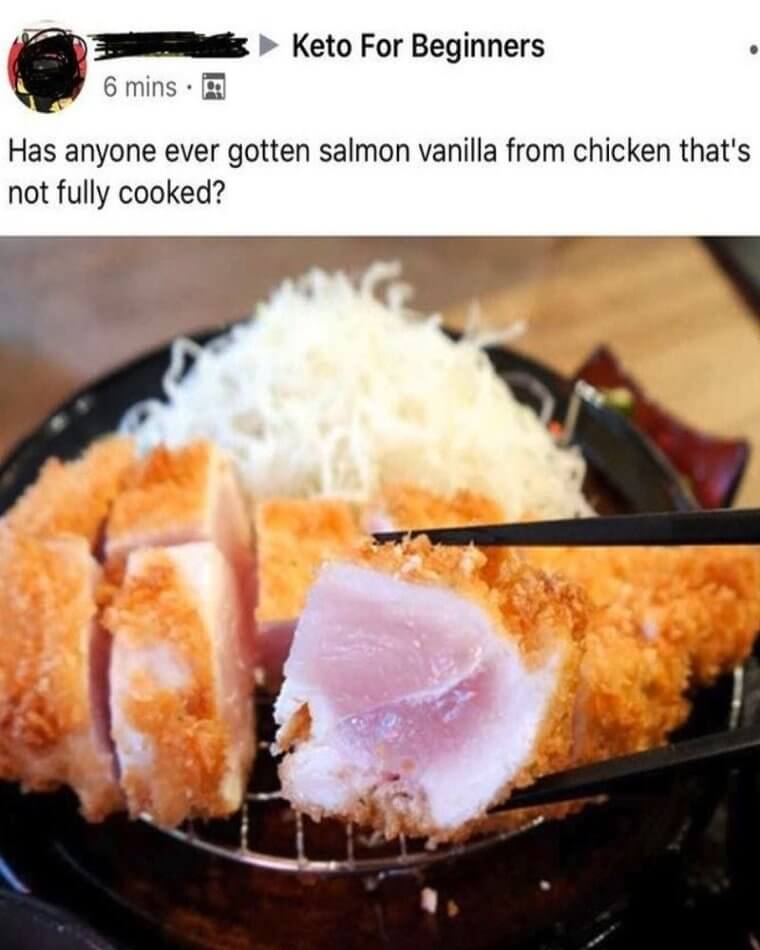 We know she meant salmonella. She asked if she could get 'salmon vanilla' from it, though. We don't think you can get salmon or vanilla from this meal. But you might get food poisoning!
This Won't End Well
Eventually, all machines break down, and that includes your wheels. Taking care of your vehicle is all part of freedom on the road. Experts suggest changing the oil in your car every 5,000 miles or so, to be safe. Here, we see a driver trying to do the right thing. But as everyone noticed online, he should have just gone to a professional. We cringe: That's the wrong oil, sir!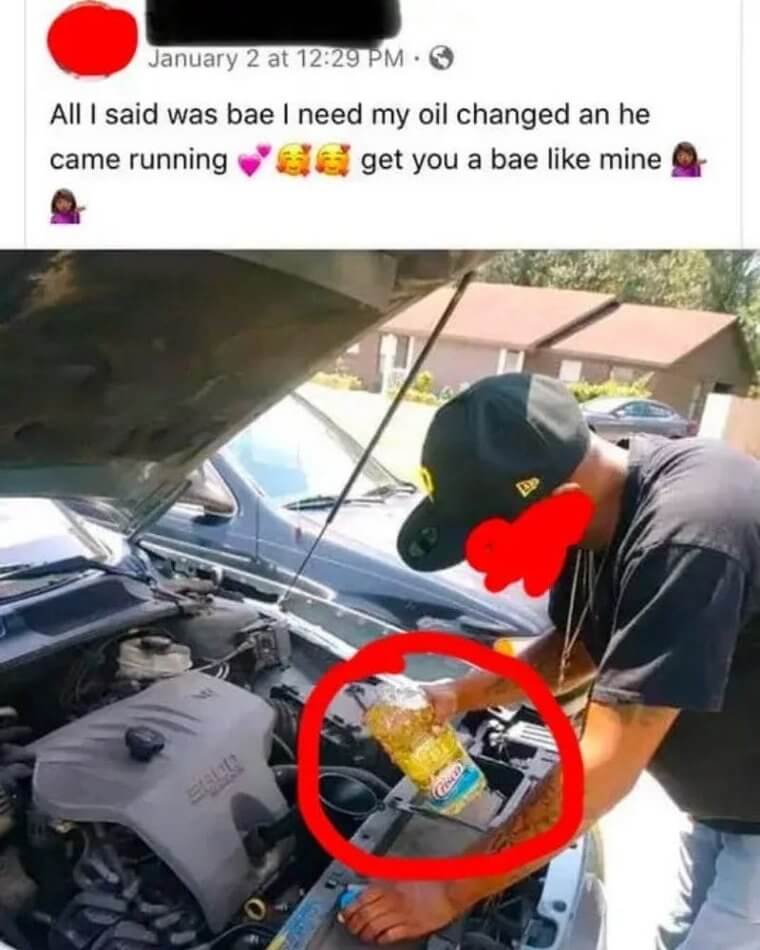 Cooking oil and engine oil may both have the same word at the end of the phrase. But chemically they are very different substances. In fact, they're not even close!
That's a Key Detail
On the internet, there's a little bit of everything. You can learn new things and meet people you might never encounter in real life. Dating apps work like that, too. That's why this man encountered a transgendered person, without realizing it. He didn't really understand the concept, though. When he was asked to google the word, he seemed to think it was a word about google itself. What a word game!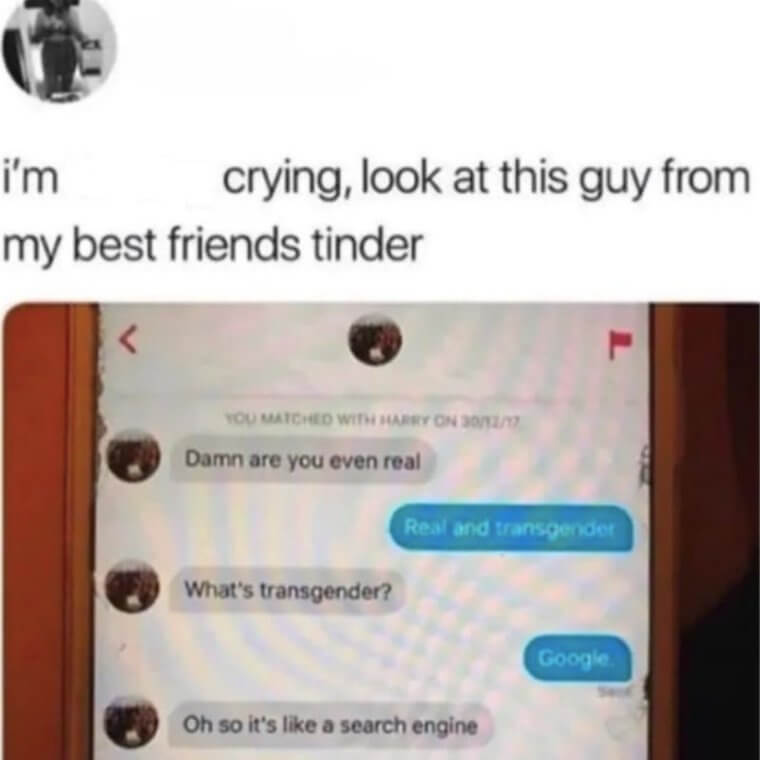 This screenshot was posted for all of us to see what happens when you hardly think things through. We wonder if they met in real life, and he figured it out. At some point, he had to!
Fear the Pack of Nips
Zombies are not real, as far as we know. But it's a whole genre of movies, books, and videos games, and the best kind of when they invade during the apocalypse. They march in your direction planning to eat your brains, and you know what must be done: You have to blow their heads off and neutralize the threat. But what if, instead of an apocalypse, there is a 'pack of nips'?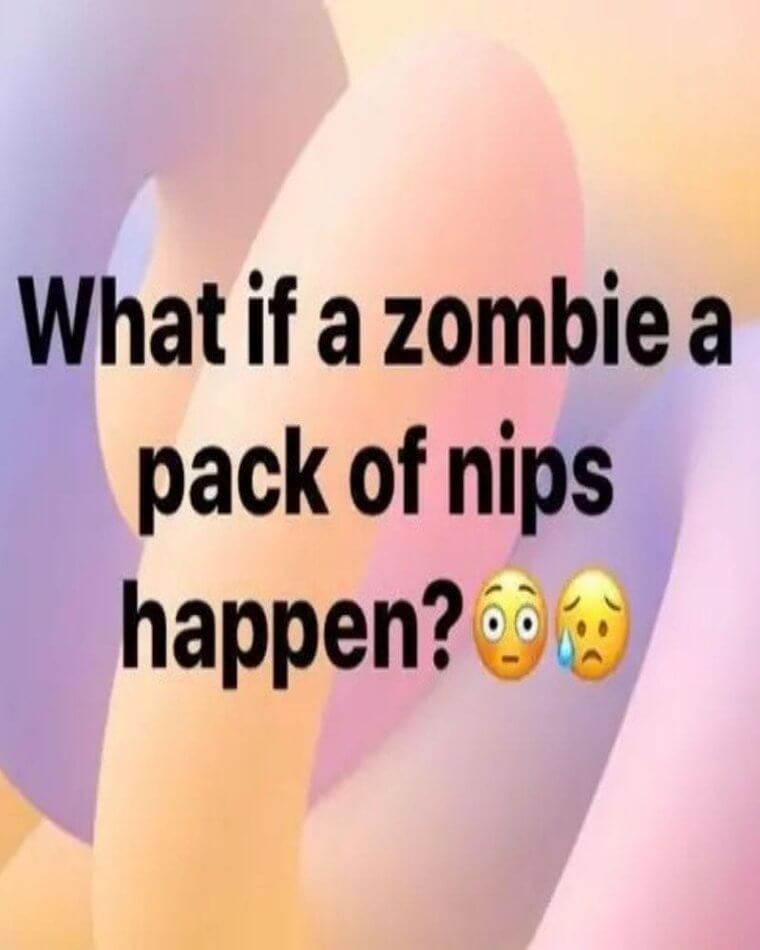 Clearly, this post wasn't thought through. This is not how you spell apocalypse, and we don't know how they heard nips or pack in the first place. It's just wrong!
What a Waste
Looking at these containers, you will see that someone crudely wrote on them with a permanent marker. It doesn't look pretty, and it wasn't thought through. When this picture was posted online, many people weighed in. You can see that the words 'coffee' and 'tea' were crossed off to simply write in 'tea' and 'coffee'. Why ruin these jars? It would have been so easy to just switch their contents.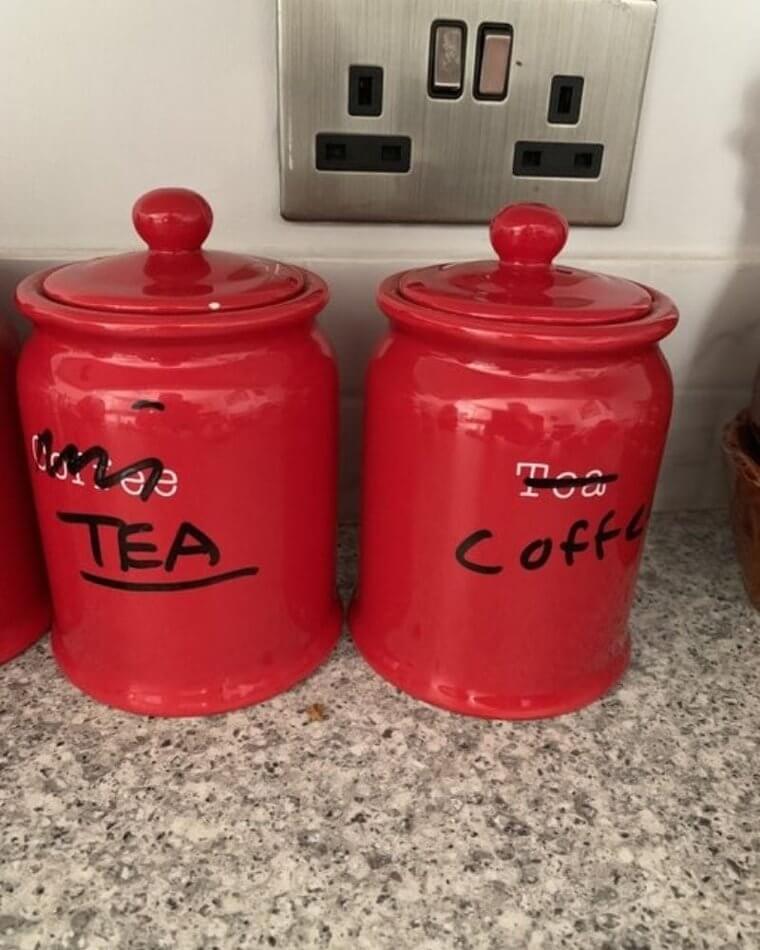 Instead of pouring out the tea and coffee, the owner now has ugly decor. It's their choice, of course. But we wonder if they realized this wasn't the only way!
Totally Wrong Holiday
When we were kids, many of us kept diaries. It was fun to record the day's events, and know it would be there years into the future for reflection. Here, we see an entry from a kid that has quite a few spelling errors. They spelled 'diary' and 'July' wrong, but that's cute, and we don't judge them. There is one thing the internet wouldn't let slide, though, at the end.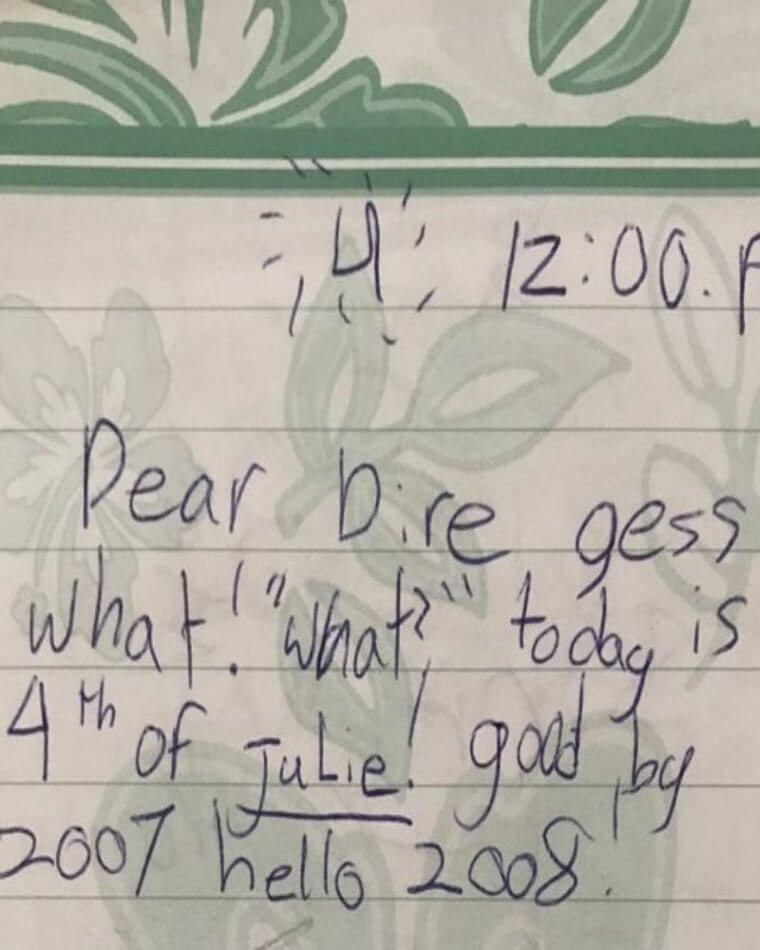 Independence Day celebrates America's separation from England. It has nothing to do with the year changing, as this child claims. It must have been a shock to learn that it was still 2007, the next day. But it certainly was!
Just Fly on Through
Design fails are an entire category of laughs on the net today. This photo shows a good example of when architects get drunk, careless, or lazy. We see a normal door, at first glance. But then, we see another door, above it. It's confusing, and odd: Is it meant for ghosts to zoom through? We are not sure those really exist, but this door does really exist. What a mess!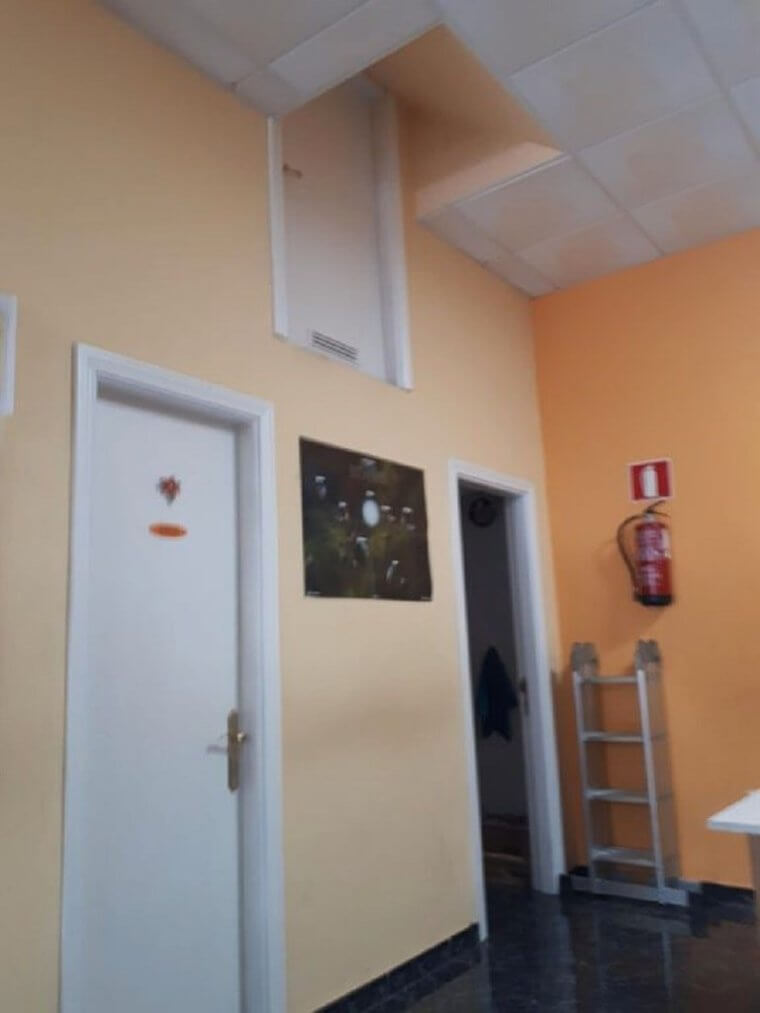 Unless there is a redo, this door is here to stay. We don't know if a plant can cover the eyesore. You might need to add some stratigic art, too.
Fear This Look
There's nothing like being scared into wetting yourself, in a good horror flick. Others like comedies, which can produce the same effect in your pants. The movie Get Out combined the two back in 2017. We enjoyed the twists and turns, as well as the laughs. But this person seems to have misunderstood the basic plot of the film. They think this girl is lovingly looking at the character on her right. She isn't!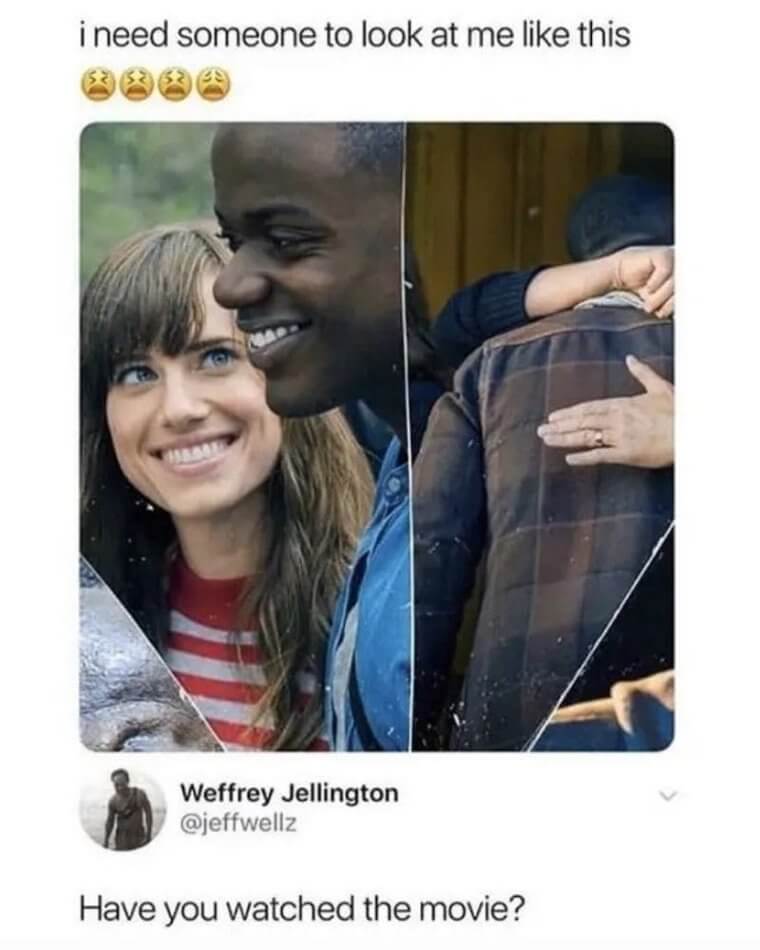 We don't want to spoil the plot for anyone who hasn't seen it yet. But if anyone does look at you like this in real life, make sure to run. Get out, actually!
Time for a Hearing Aid
Chernobyl was a recent hit on HBO, and we admit we couldn't look away. That story was a real one: The series showed the tragedy of a nuclear reactor gone wrong in Soviet Russia in the 80's. But not everyone is familiar with the way the regime operated. For example, what is comrade? Everyone used this title, back then. This viewer thinks they are using a name: Conrad. Are they?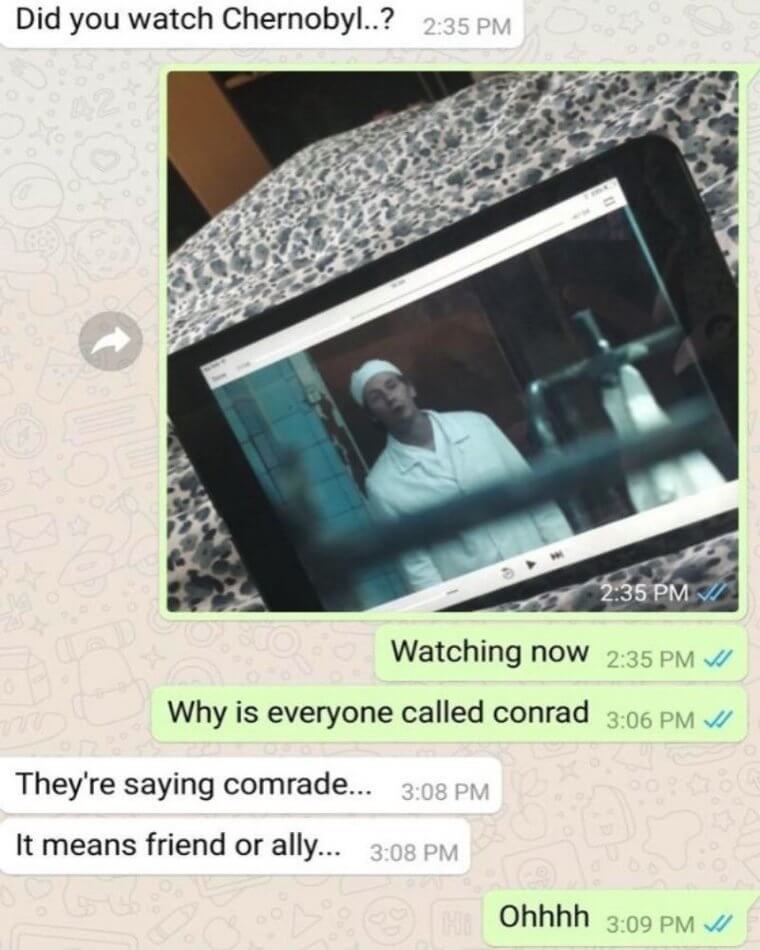 No, they are not. It seems that this person didn't think things through very well. They also didn't hear things through. The dialogue must have been confusing, from start to finish!
Risky Radiation
Since the beginning of cell phones, there have been concerns about the technology. Is it really safe to have satellite rays so close to your head, for hours on end? Experts eventually said it is, but there are skeptics out there. What does the public think, at the moment? When the newspaper interviewed these local ladies, we got a window into their heads. We're not sure we like what we saw!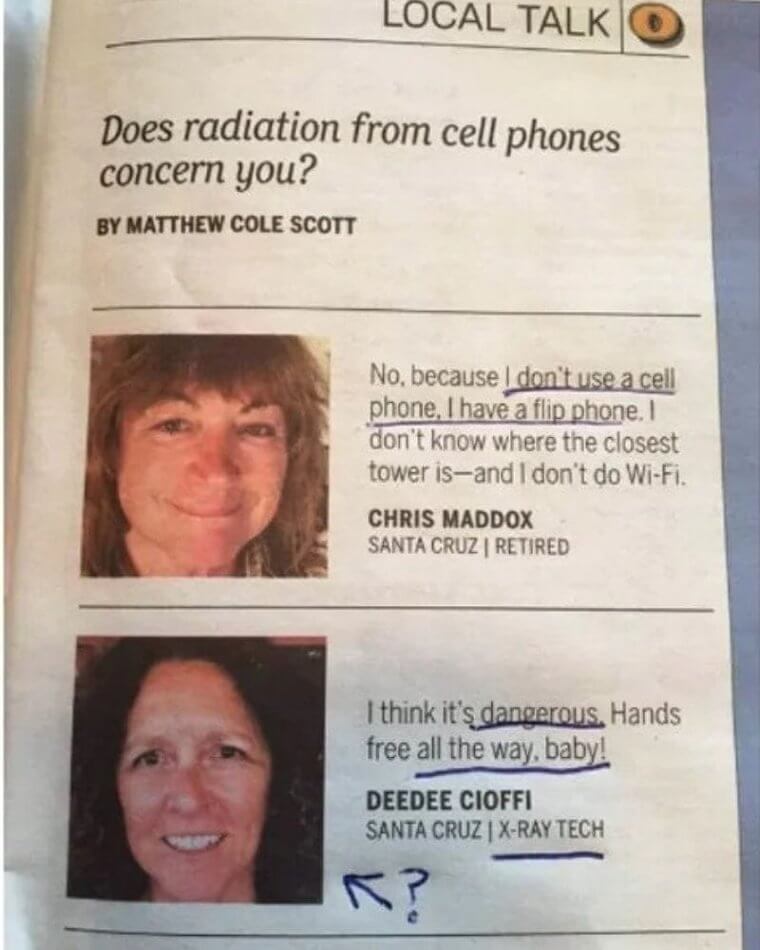 One lady thinks that her flip phone means she doesn't have a cell phone. The other feels a hands-free version is safer, somehow. We think they might have brain cancer already!